Return To Blog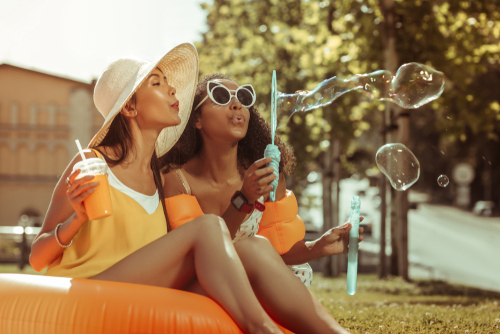 After a tough year, people are starting to venture out and enjoy themselves once again. If you want to experience Houston with visual freedom, LASIK vision correction is a great way to reduce dependence on glasses and contact lenses!
Following LASIK, many people want to get out and explore with their improved vision. You don't have to go on a big trip to have some fun, because you can explore your own city!
If you've just had LASIK, it's time to take in the sights. Keep reading for 6 tips for your best staycation in Houston after LASIK!
1. Enjoy patio season at Truck Yard
This remarkable outdoor space is like a playground for adults! Truck Yard includes food, outdoor spaces, a beer garden, and even an outdoor Ferris wheel! It's even dog-friendly if you feel like bringing along man's best friend.
LASIK is designed to improve vision by reshaping the cornea of the eye, providing sharper clarity. After LASIK, you're definitely going to want to show it off at a fun place like Truck Yard.
Wondering what the truck part of the Truck Yard is? They offer a rotating schedule of on-site food trucks! Whether you're in the mood for barbecue, po'boys, or a pizza, Truck Yard has it covered.
There is an extensive menu of craft draft cocktails (including frozen varieties) perfect on muggy summer nights. Or, you can try a draft beer from their local rotation to explore the latest offerings from nearby breweries.
They also offer live musical performances – after LASIK, you can see every detail, and dance to your heart's content without worrying about your glasses falling off! Enhancing your vision will allow you to get the most out of every moment at this fun Houston venue.
2. Find your inner zen with sunrise yoga on Buffalo Bayou
Looking to center yourself? Sunrise yoga is a great way to do it. With a procedure like LASIK, physical activity becomes much easier – with reduced dependence on glasses and contacts, you can vinyasa with ease.
Find your inner zen without glasses bouncing around on your face or worrying about your contacts drying out at the end of a sun salute. Plus, you won't have to wear expensive prescription sunglasses when the sun peeks out over the horizon. You can celebrate all the little things after having LASIK!
This class is 45 minutes long and offers a stunning view of the sunrise over Bayou Park. Bring a mat and a full reusable water bottle to stay hydrated!
3. Book a weekend at the Post Oak Hotel, the only five-star hotel, and spa in Texas
Everyone deserves a little pampering, and after LASIK, you should indulge in a treat-yourself weekend, complete with spa treatments and plenty of relaxation at the Post Oak Hotel.
The Post Oak Hotel and Spa is the only 5-star hotel and spa in Houston. Take in gorgeous views of downtown and enjoy a delicious meal at one of their seven fine dining restaurants. Try wines at The Cellar or dig into contemporary fish and lobster at Willie G's Seafood.
Getting LASIK is an investment that will actually save you money over time. Go ahead, try the Luminescence or Timeless Beauty treatments in the spa – you've earned it. LASIK is all about investing in yourself and doing something that will change your life for the better.
4. Order a charcuterie board to go for your own hotel photoshoot
Jealous that your favorite influencers always have perfect pictures? With a bit of planning, you can do the same!
Local favorite Montrose Cheese & Wine conveniently offers curbside and delivery services. Order one of their charcuterie boards to enjoy in the comfort of your room at the luxurious Post Oak Hotel!
The cheese boards feature unique varieties from all over the world. You'll enjoy hints of almond, fennel, and hard cider in these carefully aged cheeses. Choose from tinned seafood and veggies, sauces, and sliced meats.
Enjoy a fun photoshoot with friends as you kick back for the weekend, without one accessory in the pictures – your old glasses.
5. Catch a movie under the stars at Market Square Park
Why go to a theatre when you can watch movies under the stars at Market Square Park? Bring a blanket to lie on for their free outdoor screenings. Grab Greek or American food at Niko Niko's, an on-site restaurant.
After LASIK, you don't need to worry about missing out on the many summer activities because there's a quick recovery. You'll be back to your favorite things before you know it, and you'll be able to enjoy them with the sharpest, clearest vision you've ever had. What's more, getting LASIK means you'll see better than you ever could with glasses or contact lenses.
6. Bring a good book to the Japanese Garden in Hermann Park
Sometimes you just need a minute to slow down, and the Japanese Garden in Hermann Park is perfect for that. Filled with waterfalls, stone paths, and beautiful cherry trees, you can take some time to yourself.
The unique features of the rocks, water, and wood will be crisp and clear after LASIK. Most LASIK patients end up with 20/20 vision or better after they have the procedure.
It's not a coincidence why LASIK has a 96% satisfaction rate with patients who have had it! After LASIK, you'll have no trouble following the trails and reading the signage about the flora without contacts or glasses. Plus, admission is free!
LASIK may be a vision correction procedure, but many people find that after they have it, they see other changes in their life as well. Who wouldn't want to feel more confident, have more energy in the morning, and feel like a new person? These are some of the many ways that LASIK can change your life.
Want in on the best vision of your life during a Houston staycation? Schedule your LASIK consultation with the experts at Diagnostic Eye Center in Houston, TX, today!