At Diagnostic Eye Center in Houston, TX, our goal is to help our patients achieve their best possible vision. One of the many tools we use to achieve this is the advanced IOL (intraocular lens), which can help our patients see more clearly after cataract surgery or refractive lens exchange.
What is an IOL?
During cataract surgery, the cloudy natural lens of the eye is removed and replaced with an intraocular lens (IOL). The lens of the eye refracts (or focuses) light onto the retina at the back of the eye, resulting in the images we see. By replacing a lens clouded by cataracts, it is possible to restore clear vision, and this also prevents cataracts from
Trusted Source Intraocular Implants (IOLs) American Academy of Ophthalmology Go to Source coming back .
Some of our patients who have not been diagnosed with cataracts may also choose to undergo eye surgery to place IOLs so that they can correct common refractive errors like nearsightedness (myopia), farsightedness (hyperopia), and/or astigmatism. This elective procedure is called refractive lens exchange (RLE).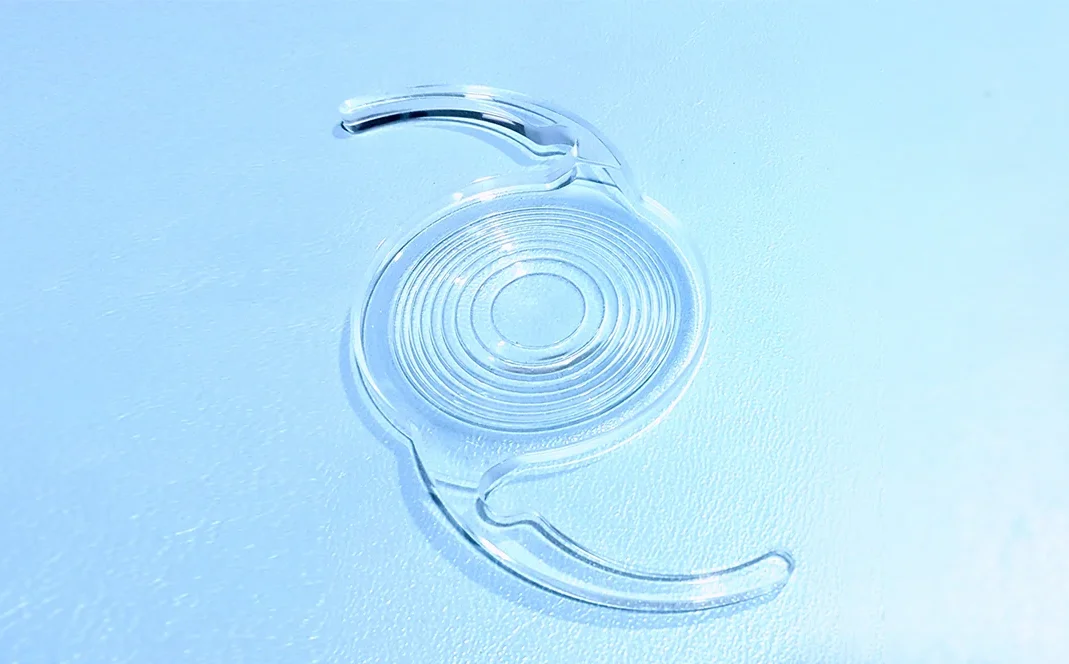 Standard IOLs vs Advanced IOLs
Standard IOLs, also known as monofocal IOLs, are covered by insurance to replace a cloudy lens during cataract surgery. These lenses can improve near or distance vision, but not both.
For our patients who wish to eliminate cataracts and also reduce their dependence on glasses or contacts, advanced IOLs are a great option. We offer a range of advanced IOL options that can correct vision at a range of distances and may also provide additional benefits like UV protection.
PanOptix™ IOL
The PanOptix Trifocal IOL delivers enhanced visual acuity at multiple distances, covering near, intermediate, and distance vision. The PanOptix IOL uses ENLIGHTEN Optical Technology, which allows for clear intermediate vision without compromising distance or near vision. PanOptix was the first Trifocal IOL approved by the FDA in the United States, revolutionizing the medical landscape for cataract surgery.4
Like the Vivity IOL, the PanOptix Trifocal IOL offers protection against ultraviolet and blue light, helping to protect your eyes from harmful damage. These IOLs are designed to adapt naturally to the eye, providing a continuous range of clear vision.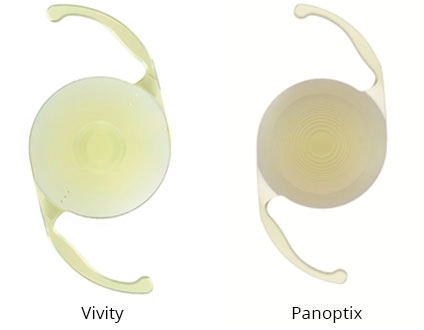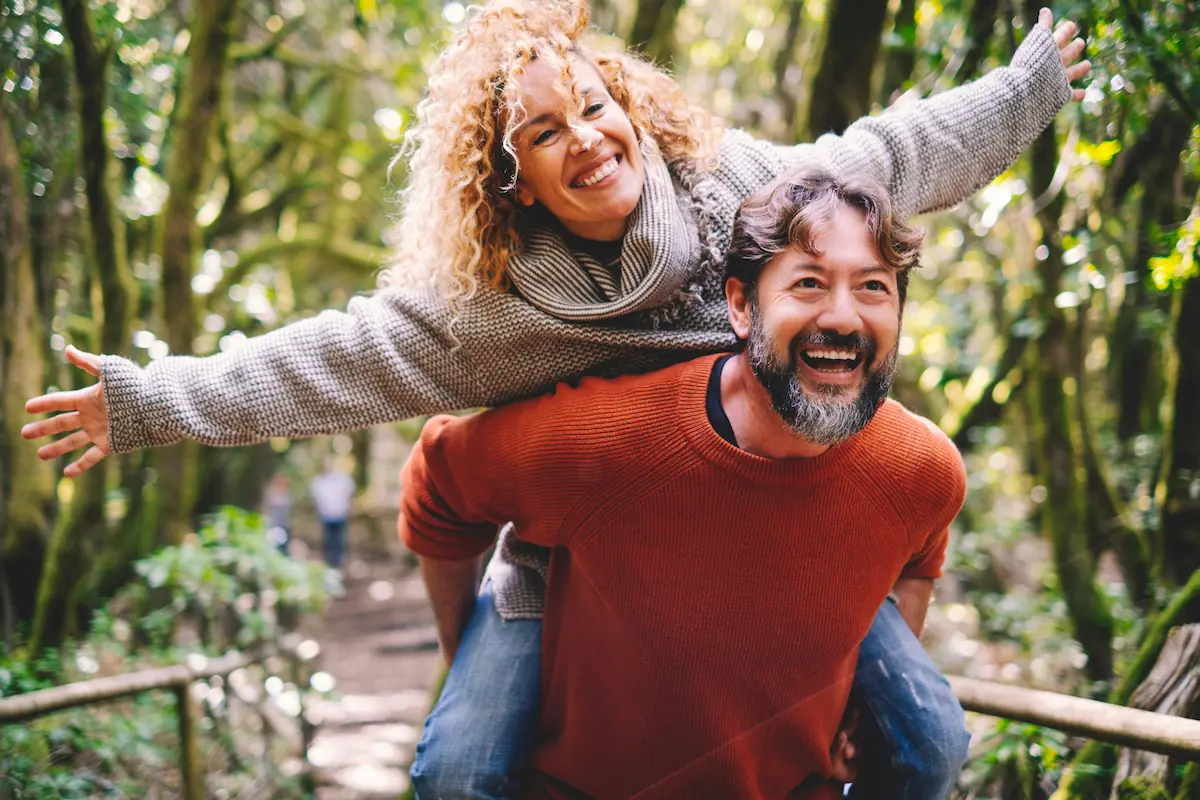 Vivity™ IOL
The Vivity lens provides our patients with exceptionally high-quality distance vision, and it also improves near and intermediate vision. The Vivity lens uses non-diffractive technology to provide patients with a continuous, extended range of vision. This IOL additionally offers protection against damaging UV rays, and filters blue light rays from technology like computers or smartphones.
Patients who have the Vivity lens report lower visual disturbances following cataract surgery, similar to those with monofocal lenses. The Vivity IOL is available as a toric IOL for patients with astigmatism, allowing visual errors caused by astigmatism to be corrected at the time of cataract surgery.
Patients who had cataract surgery or refractive lens exchange with the Vivity IOL reported that their
Trusted Source Vivity Alcon Go to Source distance vision was good or very good six months after their surgery.
TECNIS® Extended Depth of Focus IOL
The first in a new category of IOLs called Extended Depth of Focus (EDOF) IOLs, the TECNIS Symfony lenses are the only lenses in the United States that provide a full range of continuous high-quality vision from distance to arm's length, and sometimes closer. This lens technology, FDA approved in July 2016, also includes a version of the lens for people with astigmatism, the TECNIS Symfony Toric IOL. The goal of the TECNIS Symfony lens is for patients to have good distance and
Trusted Source TECNIS Symfony IOL Johnson & Johnson Surgical Vision Go to Source intermediate/computer vision with less dependence upon eyeglasses. Some patients may still need reading glasses for small print.
Synergy™ IOL
The TECNIS Synergy IOL was approved by the FDA in 2021, although it has been available for patients in Europe for several years with excellent visual results and high patient satisfaction ratings.
The TECNIS Synergy IOL offers the broadest range of vision amongst any IOL, including other premium multifocal and trifocal IOLs on the market. This IOL additionally corrects presbyopia, a condition that makes near vision activities more difficult with age. The Synergy IOL also provides excellent contrast in low light settings.
The TECNIS Synergy IOL can
Trusted Source (May 6 2021) Johnson & Johnson Vision Go to Source reduce or eliminate the need for eyeglasses, providing quality vision to enjoy the activities you care about most. In keeping with our commitment to the best medical technology, we are proud to offer this advanced IOL option for patients seeking cataract surgery or refractive lens exchange.
Toric IOLs for Astigmatism
Patients with large amounts of astigmatism are often candidates for toric IOLs. Astigmatism occurs when the eye has more power in one direction than the other, causing light to focus at two points in the back of the eye instead of one. Toric lens implants are designed to correct significant amounts of astigmatism and are now even available as multifocal lenses. Our surgeons will measure the exact amount of astigmatism in your eyes and discuss the best option to correct it. With advanced Laser Cataract Surgery and the new ORA™ System technology, our doctors are able to achieve more precise toric IOL placement and even better visual outcomes.
Frequently Asked Questions About IOLs
When a person's cataracts have progressed to the point where their vision is impaired, cataract surgery with standard IOLs is deemed medically necessary and is eligible for insurance coverage. Advanced IOLs do lead to out-of-pocket costs, but our patients find that this investment in their vision is well worthwhile.
The best way to determine which IOL is right for you is to consult with an experienced ophthalmologist at Diagnostic Eye Center. During this meeting, your eye doctor will educate you about your IOL options, and together you will decide which IOL is best suited for your lifestyle and goals.
Refractive lens exchange (RLE) is an option for patients who do not have cataracts but wish to achieve clearer vision with advanced IOLs. This procedure is identical to cataract surgery, but is elective. Good candidates for RLE are:
Over the age of 45
Not diagnosed with cataracts
In the early stages of age-related near vision loss (presbyopia)
Not good candidates for LASIK or other refractive surgery procedures
The doctors at Diagnostic Eye Center have reviewed and approved this content.