QUESTIONS? CONTACT US NOW!
WHAT IS A CATARACT?
A cataract is a slow clouding of the natural lens of the eye. A normal lens is clear and allows light to pass through to the retina, the light-sensitive tissue at the back of the eye. As a cataract develops, it becomes more difficult for a person to see. Vision may become cloudy or blurry, and colors may start to fade.
Most people develop a cataract in both eyes. One eye may be worse than the other, however, as each cataract progresses at a different rate. Some people with a cataract don't even know it. Their cataract may be small, or the changes in their vision may not bother them very much. For people with more visually significant cataracts, their daily activities may become difficult.
The majority of cataracts are related to aging. About half of Americans ages 65 to 74 and about 70 percent of those age 75 or older have a cataract. Other circumstances can increase the risk of developing cataracts, including diabetes, smoking, certain medications, and prolonged UV exposure.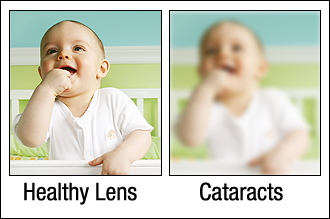 A comprehensive eye examination by your optometrist or ophthalmologist can determine the presence and extent of cataracts. When symptoms first appear, your doctor may be able to temporarily ease the effects of cataracts and improve your vision by prescribing glasses, strong bifocals, or other visual aids. Cataracts may continue to develop, however, leaving cataract surgery as the only option to restore your good vision. Contact Diagnostic Eye Center, your Houston cataract specialists, today!