QUESTIONS? CONTACT US NOW!
CATARACT
Your Houston Cataract Specialists
Diagnostic Eye Center of Houston, Texas offers comprehensive eye services to help diagnose and treat cataracts. With friendly staff, top-of-the-line technology, and our surgeons' extensive surgical experience, you can rest assured that your cataract surgery is in the right hands.
Regular, comprehensive eye exams with our optometrists or ophthalmologists can help to determine the presence and degree to which cataracts have developed in the eye. It is vital to have regular eye exams, as many individuals with cataracts do not notice their onset when they begin to develop. Relief from visual impairment can be achieved using glasses, bifocals, or other visual aids, but as cataracts continue to develop, surgery may be the only option to restore your vision.
If you or a loved one are experiencing cataracts in the Houston area, contact Diagnostic Eye Center today to discuss your options and begin on the path to the vision you deserve!

Cataract Surgery
Thanks to advancements in medicine, cataract surgery is one of the safest and most successful procedures done today. Cataract surgery is performed when your quality of vision affects your quality of life. When you are unable to enjoy daily routine activities, such as driving, watching television, or reading, due to cataracts, it may be time to consider cataract surgery. Houston cataract surgeons Dr. Marc Sanders and Dr. Andrew Salem and their team at Diagnostic Eye Center can help you get the quality of information you need and to make that decision.
During cataract surgery, the cataract (the clouded natural lens) is replaced with an artificial lens implant called an intraocular lens (or IOL). Patients are given mild sedation through an IV, and eye drops are used to numb the eye. Most patients experience no pain. Very tiny incisions are made on the front part of the eye that seal without stitches. These incisions are made either by a small blade or by a femtosecond laser. The cataract is removed using a procedure called phacoemulsification, which involves an ultrasonic probe that dissolves the cataract. After the cataract is removed, an intraocular lens implant is placed inside the eye. This implant focuses light coming into the eye so that patients do not need thick glasses after cataract surgery.
Following cataract surgery, patients use antibiotic and anti-inflammatory drops for about four weeks. Strenuous activity should be avoided for one week, but most patients return to a desk job the day after surgery.
As with any surgery, complications and side-effects can occur. Fortunately, the rate of complications from cataract surgery is very low. Your surgeon will discuss possible complications and side effects with you at the time of your consultation. Call Diagnostic Eye Center's Houston cataract center today to schedule your comprehensive eye exam and to find out if cataract surgery is right for you.

Bladeless Cataract Surgery at Diagnostic Eye Center
Diagnostic Eye Center is proud to offer the newest advancement in the field of Houston Cataract Surgery: Refractive Laser-Assisted Cataract Surgery using the LenSx® Laser! This replaces many of the steps currently done by hand, providing greater precision and safety. Dr. Marc Sanders and Dr. Andrew Salem are some of few ophthalmologists in Houston providing this latest laser technology to their patients.
What is Laser Cataract Surgery?
Laser Cataract Surgery is an advanced technology that adds computer-control to key steps of cataract surgery using a femtosecond laser. The laser analyzes high-resolution images of your eye and helps your surgeon design a customized procedure for you. A patient interface connects your eye to the image-guided surgical unit so that precise, real-time images are displayed at all times during the laser procedure.
How is Laser Cataract Surgery different from traditional cataract surgery?
In traditional cataract surgery, the surgeon makes tiny incisions on the front of the eye with a small blade. Using the LenSx® Laser or the Catalys® Laser to make these incisions provides greater precision and control. The laser also performs other critical steps of the surgical process, including fragmentation of the cataract to make removal faster and easier. The LenSx® Laser and the Catalys® Laser can additionally correct small amounts of astigmatism by making a Limbal Relaxing Incision (LRI) during the procedure, which has the effect of making the cornea more spherical.
Curious if you may be a candidate for cataract surgery? Take the Diagnostic Eye Center IOL Self-Evaluation Test now!
What is a Cataract?
A cataract is a slow clouding of the natural lens of the eye. A normal lens is clear and allows light to pass through to the retina, the light-sensitive tissue at the back of the eye. As a cataract develops, it becomes more difficult for a person to see. Vision may become cloudy or blurry, and colors may start to fade.
Most people develop a cataract in both eyes. One eye may be worse than the other, however, as each cataract progresses at a different rate. Some people with a cataract don't even know it. Their cataract may be small, or the changes in their vision may not bother them very much. For people with more visually significant cataracts, their daily activities may become difficult.
The majority of cataracts are related to aging. About half of Americans ages 65 to 74 and about 70 percent of those age 75 or older have a cataract. Other circumstances can increase the risk of developing cataracts, including diabetes, smoking, certain medications, and prolonged UV exposure.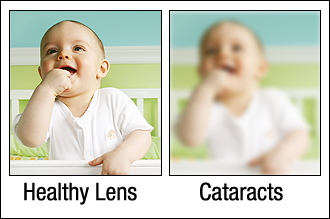 A comprehensive eye examination by your optometrist or ophthalmologist can determine the presence and extent of cataracts. When symptoms first appear, your doctor may be able to temporarily ease the effects of cataracts and improve your vision by prescribing glasses, strong bifocals, or other visual aids. Cataracts may continue to develop, however, leaving cataract surgery as the only option to restore your good vision. Contact Diagnostic Eye Center, your Houston cataract specialists, today!
Frequently Asked Questions About Cataract Surgery
At Diagnostic Eye Center, we want you to have all of your questions answered before proceeding with any type of surgery. Below are the most common Cataract Surgery questions we encounter. If your question is not listed, please feel free to call our office, or ask your doctor at your evaluation.
What are cataracts and how are they treated?
A cataract is an opacity or clouding of the natural lens of the eye. It causes a decrease in vision, but early symptoms may be a change in your eyeglass prescription, glare on sunny days, halos, or even double vision. Cataracts develop normally as we age, but occasionally cataracts occur in younger individuals in association with diabetes, trauma, certain medications, or other reasons.
While cataracts cannot be prevented, they can be treated surgically, with treatment options available here at the Diagnostic Eye Center. Cataract surgery is one of the most common procedures performed today and takes only a few minutes. It is done one eye at a time, usually with one to two weeks in between the procedures. It is done on an outpatient basis, and most patients return to a desk job the very next day. After surgery, many patients find that their vision is better than before they developed cataracts.
What are premium intraocular lenses?
Premium intraocular lenses are designed to give greater freedom from glasses than standard lenses. Standard IOL implants are designed to correct both eyes for distance, but they do not correct significant amounts of astigmatism or provide clear near vision. Premium IOLs can reduce your need for reading glasses after cataract surgery. Choosing which implant is right for you depends on the unique characteristics of your eye, as well as your lifestyle needs. Your surgeon and his team will discuss your options with you and help you determine which lens is best suited for your eyes.
Can astigmatism be corrected?
Astigmatism is a condition where the cornea is more curved in one direction than the other. An analogy commonly used is that the cornea is shaped more like a football instead of a basketball. Astigmatism affects vision at all distances and is not corrected with traditional cataract surgery. Fortunately, we have two methods of correcting astigmatism. One method is by making an incision on the cornea, called a Limbal Relaxing Incision (LRI), which has the effect of making the cornea more spherical. This can now be done using either the LenSx® Laser or the Catalys® Laser for more accurate and precise results. A different technique is the insertion of a toric intraocular lens implant to correct astigmatism. This is done when the amount of astigmatism is too large to be corrected by an LRI. Dr. Sanders and Dr. Salem perform both of these procedures and will discuss which is best for you at your consultation at Diagnostic Eye Center.
Does insurance cover premium lenses?
Medicare and private insurance companies consider premium lenses as elective procedures to reduce the need for glasses and, therefore, do not cover these lenses. The cost of cataract surgery is typically covered, but any costs related to premium lenses or any other non-covered procedures are the patient's responsibility. Our Houston cataract counselors will go over all expected costs at the time of your consultation.
Why should I choose Diagnostic Eye Center for my cataract surgery?
Dr. Sanders has been performing cataract surgery since 1990 and has performed thousands of procedures. In fact, he teaches cataract surgery to ophthalmology residents at Baylor College of Medicine. Dr. Sanders and Dr. Salem are at the forefront of technology and are proud to offer laser cataract surgery using either the LenSx® Laser or the Catalys® Precision Laser System. If you are experiencing cataracts near Houston, Texas, come to Diagnostic Eye Center! Dr. Sanders and Dr. Salem and their experienced staff will make sure that all your questions are answered and that your cataract surgery will be a rewarding and life-changing experience!